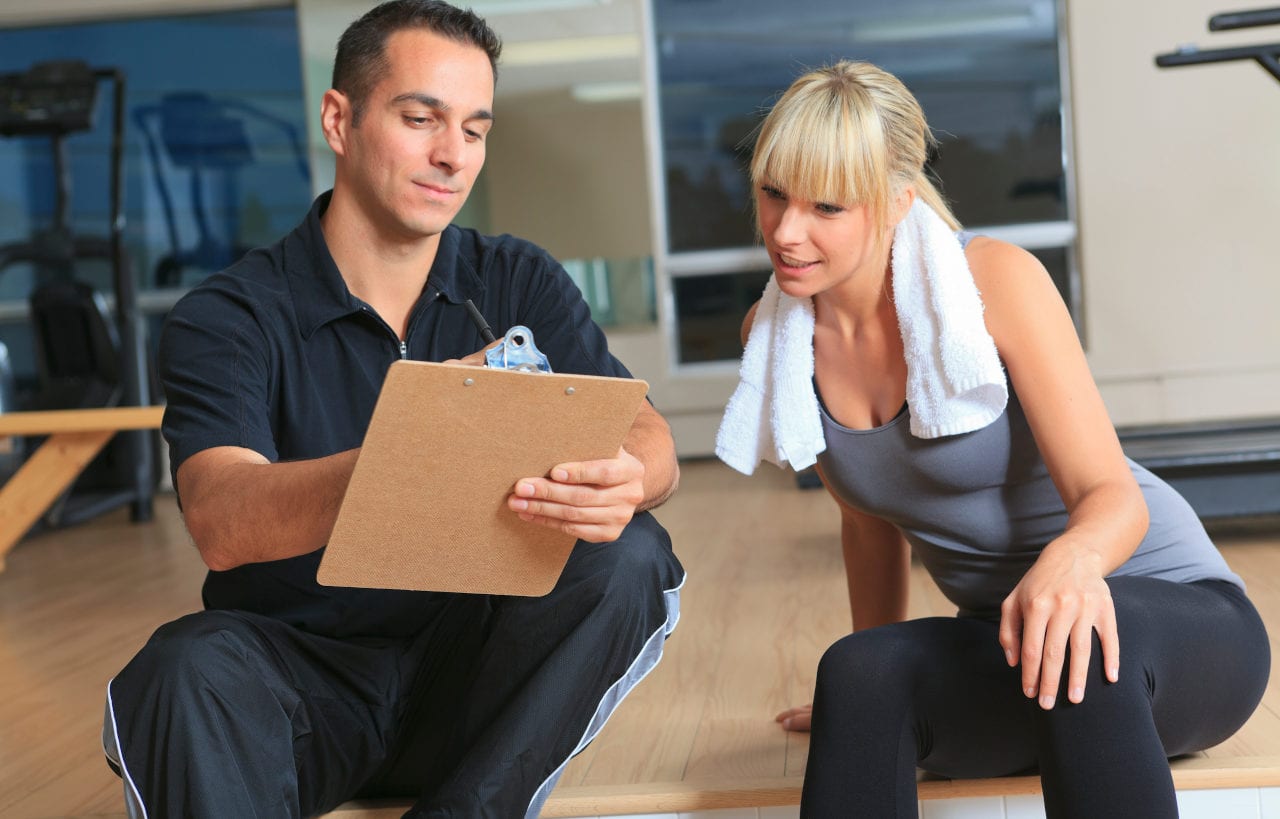 My first piece of advice to all new PT's is to get a position at a gym.
Unless you can get a job in a quality PT studio where you be given clients, then I believe a gym is essential because:
● You have other PT's there to learn from and to bounce ideas off
● There are already there that need your help
● You will learn your trade much faster
● Once you do get busy it's much easier to schedule your diary and to get great results in the gym
Trying to set up as a home or park based PT from day 1 is MUCH harder in my opinion and will be very lonely. I know that many PT's are afraid of gym rents but what is more important than having to pay rent is
that you take your time to get a position in a good club, with a great support system.
Once in the gym here's my advice on how to get your first client...
Get to know everyone:
● Ask for 10 minutes with the gym manager on day 1. Tell what you are passionate about and how you will do all you can to help their club and their members.
● Ask if you can spend an hour doing work experience with the sales and reception to understand what they do and to get to know them. Offer to train one person from each of these teams for free for 6 weeks.
● Get to know fitness instructors and other PT's. Some PT's will be more than happy to help while some will be less enthusiastic. Stay friendly and positive and boost their egos by asking what advice they wish they had when they first started out.

Members:
● Introduce yourself to as many members as possible.
● Tell them that you are new to the club and new ask their advice about the gym/local area.
● Run a members questionnaire asking their no1 health and fitness questions. Give them a couple of brief tips and offer either:
a) a more detailed workshop
b) an email follow up
c) or both
● Offer to cover/run a class.
If you can get paid for it that's great.
If not, do it anyway. It's a fantastic way to get to know people fast.
Do not worry about giving your time away for free. It's a chance for members to try what you do.
If you are good, they will love it and they will want to do more.
The mindset of someone who is employed is usually only ever to do what they are being paid to do. If you wish to RUN a successful business you have to be prepared to delay immediate gratification for long-term rewards.

Also run:
● Fast classes
● Gym challenges
● Body fat assessments
● Just spend your time interacting with as many people as possible.
● Give free taster sessions
● Train staff
● And take friends in to train
● The busier you look, the better.
● Gym members do not know that you are training people for free.
● Train hard in the gym daily yourself and always make sure you practice what you preach.
● Be approachable and do every session and every interaction as though a reporter is writing about you for the local paper.
Bonus tip – it can be intimidating to approach members on the gym floor.
Remember that:
a) members are intimidated too
b) all it takes is 5 seconds of courage to approach people
c) smile and just try to help people
When to ask for a consultation:
We tell our PT's to never ask for a consultation until you have made 3 good interactions with that person. (unless they are giving you a green light by asking lots of questions about your services)
You build a relationship initially.
When you do offer someone a consultation, do it confidently and remember how much that session is worth.
You are doing him or her a favour, not the other way around.
Extra IMPORTANT Bonus tips:
● Don't do what everyone else does – if PT's are sat around or hardly ever there – DON'T copy them
● Don't get dragged into backbiting or negativity – always be helpful, friendly and positive.
● You only need around 12 clients to have a hugely successful PT business so once you do sign someone up make sure you help them to get fantastic results and look after them as you would your own family.
● Track your interactions daily. Aim to speak to a minimum of 5-10 people per day and do not leave until you have.
● If you wish to run a successful business (in any industry) you must dedicate your life to that business for at least the first 12 months. Work hard (and smart) and there is NO BETTER JOB!
Hope this helps