Saturday, 13 January 2018 19:39


Centrally located at the formidable 24/7 Fitness Gym in Ta' Qali, the Malta campus is ideally suited for the EPTI team to deliver the fitness qualifications that are unrivalled for quality anywhere else in Malta.
Our range of Personal Training Diplomas and fitness courses make EPTI the go-to option for those serious about gaining the best quality practical fitness eduction on the island.
The practical courses run for two weeks and from 9am - 5pm each day, providing an intensive, but very through practical hands-on education. You can be rest assured that you will graduate with the confidence to deliver effective personal training to your future clients.
If the prospect of taking 2 weeks off to do the PT Diploma course all at once is difficult for you, we also offer the flexibility to split your practical course attendance across multiple practical courses.
You therefore have the option of completing the first week's training during week 1 of a practical course; and then the possibility of completing the second week's practical training by attending week 2 of a subsequent practical course date.


"During the online learning I found that the tutors were very helpful... it was like they overdelivered." - Carlin Polidano, IL-FGURA




Personal Training Diplomas
Whether you want to set up your own Personal Training business or gain employment, our EQF Level 4 Personal Training Diplomas will give you the tools!
Fitness Instructor Courses
Gain an entry EQF Level 3 Fitness Instruction qualification and begin your new career as a fully qualified, competent Gym Instructor.
CPD Courses
Our Continual Professional Development courses will help you further your career, up-skill and give you the potential to earn more.




Where are our graduates working now in Malta?
Norton Chalker - PT & bodybuilding coach
Jonathan Seychell - MfBB Athlete, PT Fort Fitness, Sliema
Hannah Tabone-Grech - IFBB Bikini Fitness Athlete, PT FitFixx & Posing coach, London
Hannah Pace - Professional Triathlete, Balzan
Ramon Farrugia - PT Cynergi, St Juliens
Walden Bugeja - PT HSBC, Senglea
Lorna Mifsud - Fitness Instructor Fort Fitness, Sliema
Kurt Muscat - Fitness Instructor 24/7 Fitness Club, St. Pauls
Leanne Azzopardi - Fitness Instructor 24/7 Fitness Club, San Gwann
Vivi Horváth - PT Cynergi, St Juliens
Jürgen Pavanello - PT Square 1 Fitness , Pietà
Simon Good - Fitness Instructor Hilton, St Juliens
Anett Jávorszky - Fitness Manager Hilton, St Juliens
Carlin Polidano - PT Fitstop Malta, Luqa
Nathanael Ellul - PT Mr Ellul Fitness, Qwara
Abigail Eaton-Richards - PT & Yoga teacher, Qormi
Justin Axiak - PT Challenger Fitness Centres
Kevin Farrugia - PT Sky Spirit Gym, Luqa
Christina Vella - PT & Group Instructor, Steel Extreme Fitness, Mosta
Glen Saliba - PT Sky Spirit Gym, Luqa
Sara Paris - Fitness Instructor 24/7 Fitness Club
Trevor Camilleri - PT & Military personnel
Ursula Farrugia - Group Instructor HIIT Fitness Malta
Matthew Farrugia - PT Fort Fitness, Sliema
Luana Esposito - PT Body Boost, Zurrieq
Friday, 22 December 2017 11:45

2018 COURSE SCHEDULE
We are extremely excited to announce our newest campus, based at 24/7 Fitness in San Ġwann.
This training facility was opened in September 2015, is spread over 800m2 and contains the most up-to-date Technogym cardio and strength machines.
Our San Ġwann campus offers non-residential practical PT Diploma courses and is therefore perfectly suited for our students situated locally in Malta and Gozo.
Our location is easily accessible by car and offers ample parking.
Students wishing to attend from further afield have the opportunity of enrolling onto this course and organising their own accommodation at one of the numerous hotels or holiday apartments that can be found in the area. San Gwann is closely accessible by Malta International Airport at Luqa.
GYM & CLASSROOM:
Our campus offers a fabulous learning environment for students to gain the most from both the theory and practical parts of the course.
In addition to the generously stocked cardio and weight rooms, the campus boasts a dedicated EPTI student area upstairs that includes classroom space and a group-training studio.
San Ġwann Map: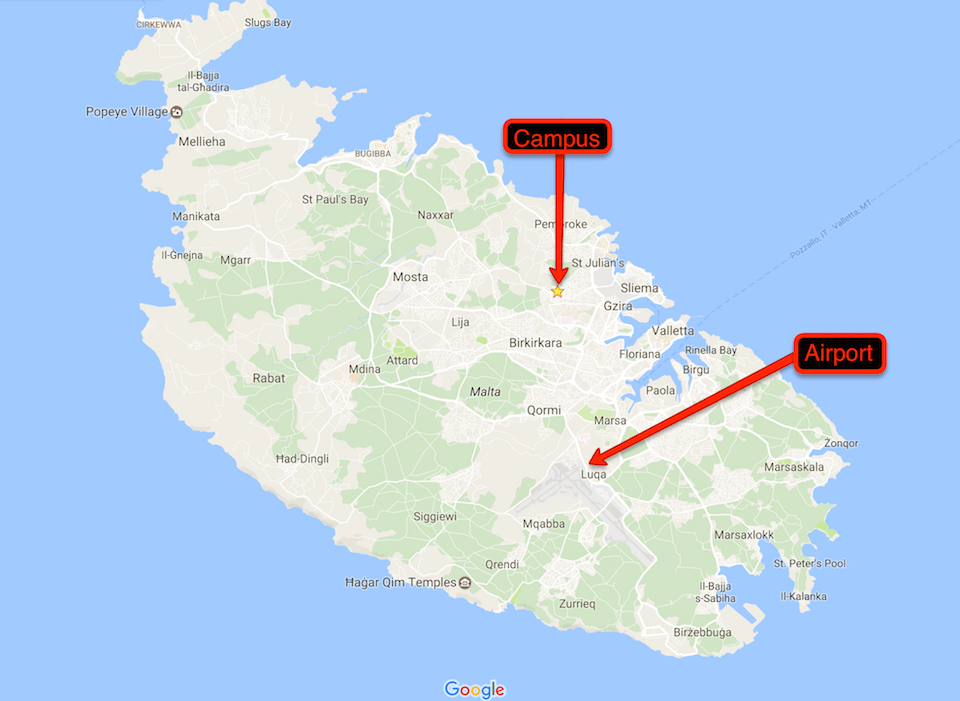 Fill in the form below to find out more…
Email: toby@europeanpti.com
Telephone: (UK) 0044 203 769 1106
(Spain) 0034 633 094 619
European Personal Training Institute